Why to make it complicated,if there is an easy way!
Book our service Transport of furniture from shops! Don't worry and save your money! We will transport your boxes from shops up to your flat and we will be happy to help with assembly!

How to book the service?
Book please at least couple of days in advance, which increase your chances that we'll be free. You have 4 options how to book:
Online booking – quick registration and few clicks, but mainly – you see immediately when we have time!
Call us 773 748 671! All our staff speaks English! If we're busy, we'll get to you soon!
Send us an email to pavel@sestopkou.eu and as soon as we sit in the evening to the computer, we will reply. Please leave your phone number for faster contact. Contact form is here.
Send us a message on Facebook.
How much for it?
We try to keep the price low and straight.
Price for transport from Olympia, Avion etc.
Consists from flat rate – van arrival (225 CZK – 1 worker / 350 CZK – 2 workers)
+ we count kilometers to your home and back to depot
+ we count time the driver spend loading, on the way to your home, unloading and back to depot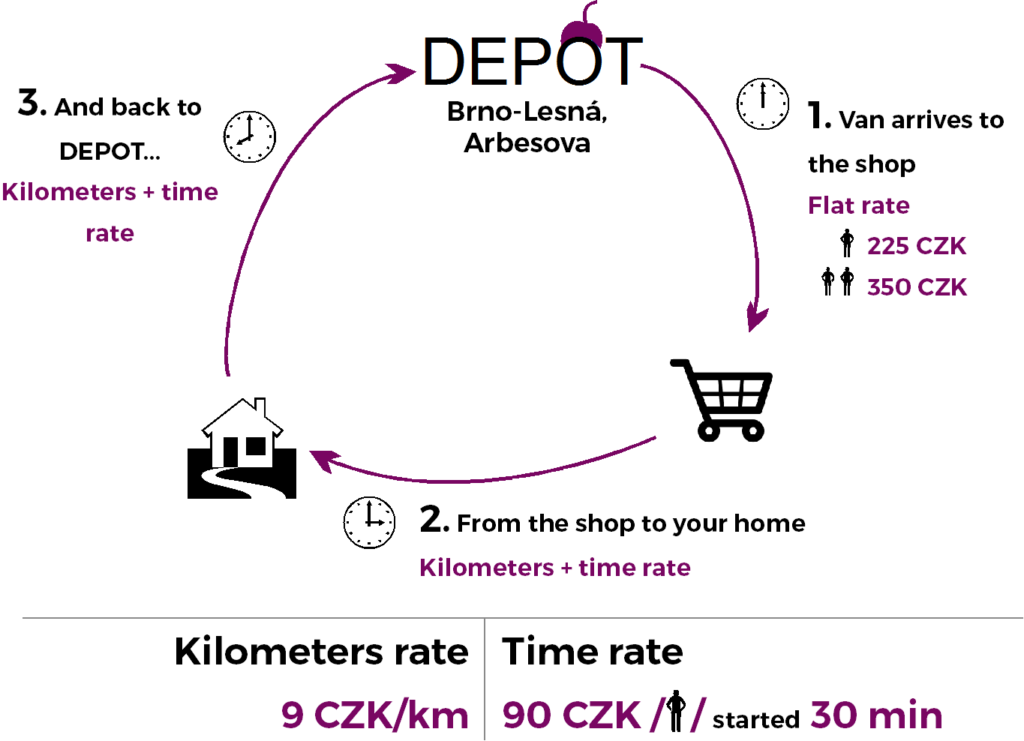 At a first look it may seem a bit complicated, but only this way we feel it is fair for everyone. Who lives further, has to pay more. Transport to Brno city center costs than usually less than 500 CZK, who lives in Bystrc for example, will pay no more than 1000 CZK.
If there are more shops or storages on the way, kilometers and time is counted since the first.
Transport from other shops further from Brno – counted from rate outside Brno (9czk/km + 175czk/hourfor all journey)
Furniture assembly
1 worker – 250 CZK/hour
2 workers – 400 CZK/hour
With us you can transport your furniture from shops like
IKEA, Sconto, ASKO, Kika, Möbelix, XXX Lutz, Jysk, … etecera.
Do you have a question?
Call us! 773 748 671!